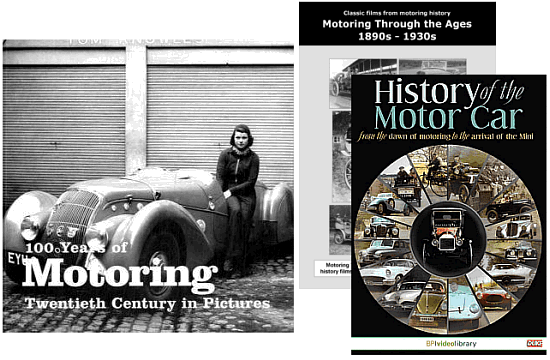 Two, highly informative motoring history DVDs + revealing 300 page motoring history illustrated reference book
The History of the Motor Car DVD (128 minutes)
This extremely informative DVD brings together all five parts of BP's magnificent documentary series detailing the development of the motor car. It begins at the dawn of motoring, when pioneers hunted for a way to replace horse power with horsepower. The journey continues through to the arrival of such famous names as Daimler, Renault and Rolls-Royce. We then follow the development of the mass market, the reinvention of the industry following WW1, the important role of motor racing, the stunning craftsmanship of Bugatti and Alfa Romeo, and then the horrendous impact of the Depression. We then see how car production evolved after WW2, with many new more advanced models produced, culminating with the amazing Mini of the late 1950s.
+
Motoring Through the Ages DVD 1890s - 1930s (110 minutes)

Rarely seen films from around the world from the earliest days of motoring when both cars and the movie camera were being developed, up to the end of the 1930s. This excellent DVD is a must for anyone interested in the origins of the motor car and includes some of the earliest ever film footage of cars on the road, early car manufacturing, new car launches, the early impact of the car in society, early motor racing, the start of mass production, daring early car stunt drivers, early road safety films, major motor shows, novel and experimental cars and much more.
+
100 Years of motoring -20th Century in Pictures (300 page reference book)

This book is a fascinating visual exploration of motoring in Britain, which began as a minority pursuit of the rich and eccentric. Here, the reader can see the story unfold, from the very early days to the motor car, to the car dominating all our lives today. It includes everything from early motor racing, including oily days at pre-war Brooklands to the high tech professionalism of today's FI super teams. It shows everything from the empty roads of the past to contemporary motorway congestion. It shows family holidays in old Austins and Fords and much more. Every page has a wonderful picture of motoring nostalgia and the book is guaranteed to entertain any serious motoring enthusiast.