The Automotive Art of Alan Fearnley
An outstanding book featuring many of Alan Fearnley's finest automotive paintings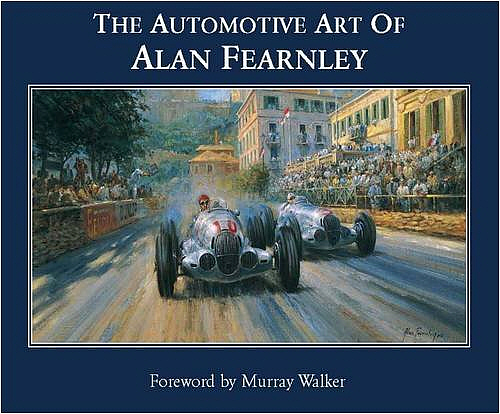 A beautiful coffee table book which contains a fantastic selection of high-quality automotive art
Hardback. 146 pages. Supplied in its own presentation gift box
Alan Fearnley is among the world's leading motoring artists and is particularly noted for his ability to create a sense of atmosphere in his paintings and for his meticulous attention to detail. The 80 paintings and 50 drawings which are reproduced in this book range from exciting racing scenes, such as Jim Clark in his Lotus at Spa and Stirling Moss clipping a hay bale during the Mille Miglia, to views of Alfas, Jaguars, Lagondas and many other classic cars in glamorous and romantic settings.
Each painting is accompanied by a commentary from the artist describing his inspiration and mode of working. There is also further insight into the art of Alan Fearnley by the current owners of his works and comments from his subjects, including the legendary Sir Stirling Moss.
This is an outstanding book for any car lover or anyone who appreciates fine art.
(Measures: 31 cms x 26 cms)
VERY FEW REMAINING