Limited edition motoring prints by Alan Fearnley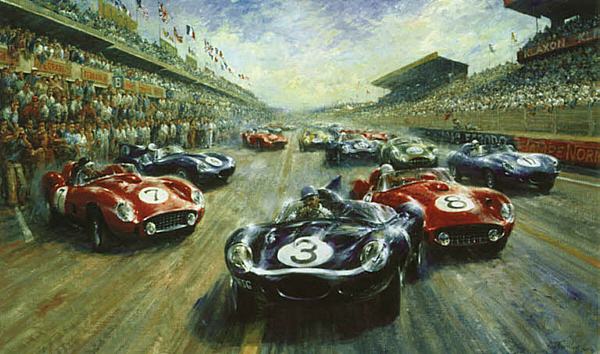 Alan Fearnley is one of the world's leading motoring artists and has received countless accolades for his outstanding artwork depicting classic motor racing scenes, as well as other evocative pictures featuring some of the world's best known cars.
Limited editions. All the prints which are offered are strictly limited editions with individual print runs ranging from only 300 to 850 copies.
Original signatures of racing stars. All the pictures are numbered and all are signed by Alan Fearnley with some also personally signed by the famous racing driver(s) featured.
High-quality: These pictures are regarded as some of the best motoring art available because of the stunning use of colours and the attention to historical accuracy.
Suggested framing option. We only supply the print so that you can choose the exact type, quality and colour of frame which suits yourself. But if you click here, you will get an idea of how one of Alan Fearnley's pictures may appear when it is framed.
All the pictures are lithographically printed onto 300gsm acid free Paralux paper for the finest quality and will be supplied in a strong cardboard tube to ensure maximum protection.
Scroll down to view the full range of prints available